Three projects that have benefited from Citizens' Rail involvement have been shortlisted for UK Community Rail awards.
The awards are run by The Association of Community Rail Partnerships, a federation of over 50 community rail partnerships and rail promotion groups in the UK. The winners will be announced at a national award ceremony in Scarborough on 2nd October 2014. The shortlisted Citizens' Rail related projects are:

The Rebuilding of Dawlish Station
OUTSTANDING TEAMWORK CATEGORY
First Great Western, Network Rail, Dawlish Town Council, Friends of Dawlish Station, Devon & Cornwall Rail Partnership & other partners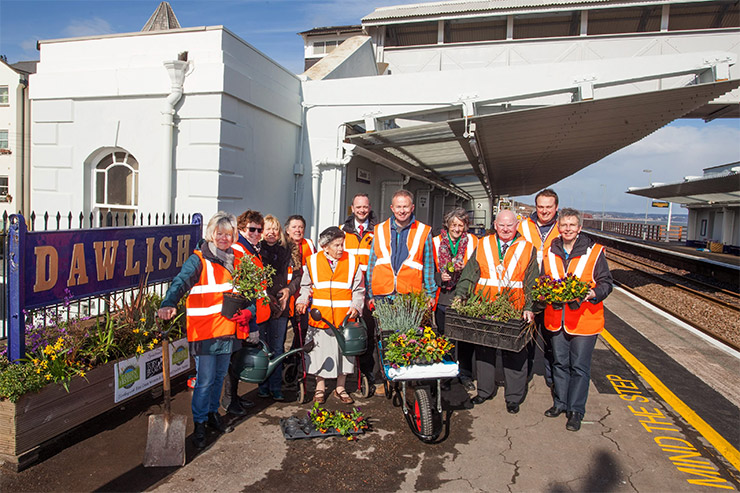 The dramatic events at Dawlish in February 2014 with the breach of the sea wall and closure of the railway led for the first time ever to the issue of Code Black for operational disruption by Network Rail. The reopening of the railway and rebuilding of Dawlish Station just two months later on 4th April was testament to the amazing teamwork of Network Rail, First Great Western, Dawlish Town Council, the Dawlish and Teignmouth Community Interest Company, the Friends of Dawlish Station, local businesses and the Devon and Cornwall Rail Partnership.

Read about Citizens' Rail's involvement.

TheRivieraLine.com
INNOVATION IN COMMUNITY RAIL CATEGORY
Devon & Cornwall Rail Partnership
April 2014. Dawlish is re-opening. Optimism is in the air. But how to harness the buzz and attract local people to try the train? Devon & Cornwall Rail Partnership's answer was a radical "one-stop-shop" website for the Exeter-Paignton line. TheRivieraLine.com is believed to be community rail's first "responsive" website – resizing to suit PCs, tablets and smartphones. Its content is tailor-made to help non-users to overcome barriers to travel. Its people-focused photography brings a fresh, modern look to the sector. First Great Western describe it as "a massive step forward", and statistics show users love it – staying longer and exploring more.

Visit the website.

Transformation of Torquay Station Garden
Robert Owen Communities Aspects & First Great Western
BEST STATION GARDEN CATEGORY
Torquay station gardens have been transformed by young people with learning difficulties from local organisations working in partnership with First Great Western. Working twice a week in all weathers, the station platforms have been transformed with planting on an English Riviera theme including reclamation of a large rockery and plans for the future to include a restored boat. The project has not only improved the look and feel of Torquay station but has allowed the young people to gain confidence, social interaction and nationally recognised qualifications to help them into employment.

Read about Citizens' Rail's involvement.