More trains,

better stations
Enhancing your line with more trains and better stations takes time – but it is possible.
The key is to carefully consider the business case for your idea, and to build up a partnership of organisations by approaching them in the right sequence. Our tips below will help you to do this.
With planning, persistence and patience, your idea may come to fruition. But the hard work doesn't stop there – it's then time to promote your success to passengers.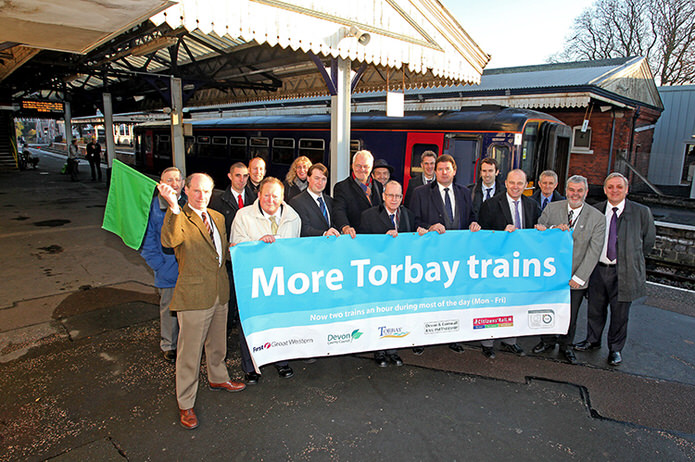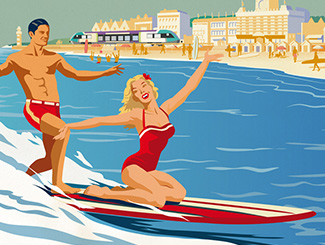 La Roche Bressuire line
Pays de la Loire (France)
Région Pays de la Loire has taken a line blighted by having too few trains and even fewer passengers and transformed it into a thriving resource that boosts tourism and the economy.
The challenge of revitalising the line between La Roche-sur-Yon and Saumur was a significant one. Despite the potential importance of the line for rural and coastal communities, services were infrequent and passenger numbers sometimes chronically low.
The response was four-pronged – consisting of additional services, substantial marketing campaigns, community engagement and station improvements. This recipe is working. The hugely popular "beach train" which was launched on summer weekends in 2013 was heavily over-subscribed, with extra trains having to be drafted in. Passengers gave an overwhelming thumbs up to the service, with satisfaction ratings hitting 90% and the only grumble being overcrowding – and this on a line which was sometimes practically deserted.
In subsequent years, the beach train has returned for extended seasons, and in 2015 is joined by a "castle train" promoting trips in the other direction, inland to visit the region's picturesque chateaux. Read more.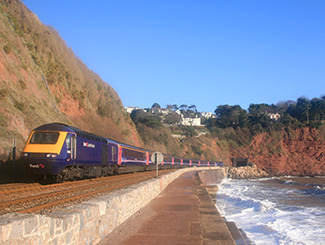 The Riviera Line
Devon/Torbay (UK)
The Riviera Line (Exeter-Paignton) has a regular off peak service of one train an hour in each direction. There has long been a local aspiration to increase this to two an hour, but lack of rolling stock, staff and funding prevented this.
The Citizens' Rail partners endorsed this aspiration and the Devon & Cornwall Rail Partnership worked with local rail company First Great Western to look at options. Devon County Council and Torbay Council, the two local government bodies responsible for transport along the route, were closely involved and agreed to provide match funding.
Neither the necessary rolling stock nor funding could be found to fulfil the complete aspiration along the whole line. However a "stepping stone" initiative was agreed: at least two trains an hour throughout most of the day between Newton Abbot and Paignton.
Introduced in December 2013, this has been such a success that, following the end of the Citizens' Rail project and an additional short period of local authority funding, the Government has agreed to continue running the additional trains as part of its franchise contract with First Great Western. From December 2018, the full service of two local trains an hour along the whole route will be introduced, without the need for any outside funding. Read more.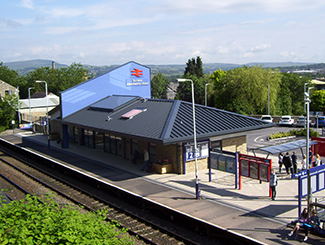 Burnley-Manchester direct service
Lancashire (UK)
Following a multi-million pound investment and almost a decade of partnership work between Burnley Council, Network Rail, Lancashire County Council and Northern Rail, the town of Burnley in North West England has its first direct train service to Manchester in over 40 years.
The reinstatement of 500 metres of rail track known as the Todmorden Curve has improved journey times and will be a vital catalyst for jobs, economic growth and the visitor economy.
The direct service complements the new station building at Burnley Manchester Road, the town's busiest station. Funded by Citizens' Rail, the community-focused building (pictured above) is attracting more passengers and delivering increased customer satisfaction (read research findings). The station now provides a booking and information office, a classroom, and acts as a base for the East Lancashire Community Rail Partnership. Read more.
THINK

IT THROUGH
Think through exactly what you would like to see, and ask yourself who agrees with you.
How many people are likely to use the improved services you want to see? What are they likely to want to use them for? What need would these trains fulfil? If a station improvement, what need would the improvement meet or what problem would it solve? How do you see the additional services or station improvements being funded? Where do you see the money coming from?
Think hard about these issues and come up with good answers to these questions and similar. That will be essential in future stages. If you are in the UK and have a Community Rail Partnership for your local line, give them a call and they can give you informal advice and point you in the direction of key contacts (if you are outside the UK, get advice about which organisations to contact on our page about how the rail industry works in France, Germany and the Netherlands).
DO

YOUR HOMEWORK
Look into what has happened in recent years on the route you want to see developed or the station you want to see improved.
Are there any plans for development or improvement already in place? What investment work, if any, is planned for the route and how do your ideas link in?
GET

TALKING
The next stage is to get talking. Whatever your idea, the rail industry will not consider it unless it is supported by the local government body responsible for transport in your area. In the UK, this is often the County Council.
Make contact with them and talk to the official who deals with rail issues. You absolutely need this person, their colleagues and the elected members, particularly the local ones, on your side to progress. Work with them and be flexible. Be prepared to compromise.
If there is a Community Rail Partnership covering the route, you need their support too – they can be a very great help in making your idea a reality – so make contact with them before you go to the local government body.
TAKE

IT TO THE RAILWAY
If your idea has reached this stage, it is time to talk to the railway.
You do need to take these stages in order – you might be tempted to simply go straight to the railway and, if you do, you will almost certainly get nowhere.
A well thought through plan worked up in broad detail, which meets an identified need or clear potential, and with the support of the local government body and Community Rail Partnership has the best chance of all of progressing.
The local government body official and Community Rail Partnership will tell you who the key rail contact is. A joint approach is best.
BE

PERSISTENT, BUT ABOVE ALL PATIENT
Following your meeting with the railway, it should now be becoming clear how achievable your idea is, in what timescale and at what cost. If things are going very well, you will have an idea where the money to pay for it will come from and what will be needed to get it.
The two key things now are to be very politely persistent and to be patient. Keep in contact particularly with the local government body rail official, the Community Rail Partnership and the key local rail manager.
Keep your idea on the agenda and help look for opportunities to make all or even part of your idea a reality. Recognise that these things do take time, often quite a long time, but that if it is a good enough idea, with wide support, then the day should come when your idea is "the next thing to do".
CELEBRATE

AND PUBLICISE
When the day comes, and your idea or a version of it is agreed and implemented, celebrate and make sure the bodies and everyone who has helped make it happen is publicly thanked and credited. Hold an event on the opening day to celebrate.
Look for opportunities to celebrate success once the idea has been implemented. A lot of people will have done a lot of work to make your idea a reality and all of them, and a great many other people, want to hear how well it is doing.
A key part of the success will, of course, be the result of excellent publicity over a good period. Make sure a solid, sufficiently funded plan for publicity is included in the implementation of your idea. If no-one knows about it, they won't use it.
Contribute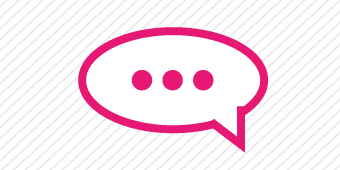 If you have your own case studies, resources or ideas to contribute to this (or any other) section of the toolkit, please get in touch.
Email our lead partner DCRP or call +44 1752 584777 to speak to our lead partner, the Devon & Cornwall Rail Partnership.